When the customers lay down their seasonal new goods,
our salesman will provide information or presentation.


The highest RFID tag which brings innovative efficiency for an apparel maker.
YOSHIKAWA gives vice-material and the lumps such as brand names necessary for an apparel product.
I can plan the information communalization with the RFID tag by taking the supply route same as conventional vice-material.
The neighboring infrastructure in conjunction with the RFID tag exits from the companies, and a hard aspect, the environment with the soft aspect are maintained. A value is used to the price of UHF zone RFID inlay from 50-80 yen/piece several years ago to around 20 yen/piece, and it is in price range available as a brand tag. After July 25, 2012, the frequency of UHF zone RFID in Japan is reorganized to 950-958MHz and becomes easy to be used by a use domain becoming large.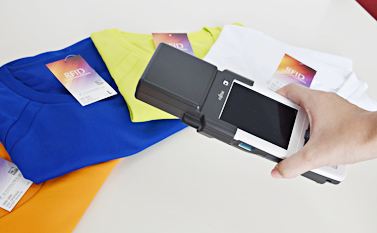 The brand rag to the times of RFID
I recommend RFID of the seal type that it is easy to provide for small lot, low price as much as possible without spoiling design characteristics to examine a visitor in us, and to be able to introduce it.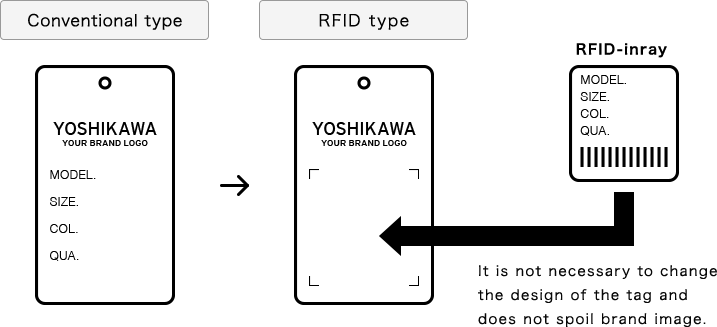 RFID POS SYSTEM

I can perfotm accounts duties indtantly just to put a product on the cash register counter.

Store server

I can analyze the information that i acquired from each RFID system by an individual unit.

RFID HANDY TARMINAL

It is the next-generation inventory system utilized the characteristic of the non-contact.Even if a product is piled up,it is readable collectively.

IN-SHOP GATE

Records of the getting out article product return are produced from the arrival by putting atouch type sensor between store and aback room.

GATE FOR CRIME PREVENTION

I can double as conventional EAS by the function of brand tag.

SMART SHELF

I can acquire a product and the stock information that avisitor picked up in real time.

Others also please look